Wall & Floor Graphics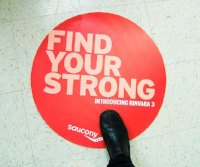 Display your brand with both High-Tac and Low-Tax Vinyl Adhesive Labels. Below gives a range of our products:
4 Mil High Tack Adhesive Vinyl: These stickers can be creatively applied to any smooth, clean surface, and can be used both indoors and outdoors. Our High Tack adhesive vinyl are printed on the front of white 4mil vinyl with permanent adhesive backing, attached to an unscored release liner. They are very durable and are not meant to be removed after application. If removal is attempted, they may peel off unevenly leaving an unwanted result. We do not recommend you adhere this product to any item you will want to remove it from at a later time.
8 Mil Low Tack Adhesive Vinyl:  Our 8mil Wall Graphic is made of a low-tack adhesive vinyl. Unlike a regular sticker - it will not leave any adhesive residue behind when removed. Wall Graphics are perfectly suited for smooth, non-textured surfaces such as walls, desks and glass. This material can be removed and re-applied many times. Your Wall Graphics will have one printed surface with a paper backing. For this product you will be able to create custom cut-out shapes.
4 Mil Flexible Floor Graphic:  Transform high-traffic floor areas into attention-grabbing ad spaces with 4mil Floor Graphics. Our removable Floor Graphics are ideal for interior applications on most dry, clean and untextured floors.